Maintenance & Servicing
Atrium Gantrys Maintenance Limited will give you the assurance that a maintenance contract for the Access Equipment at your premises will be maintained to the highest standard by our fully qualified and experienced Engineers.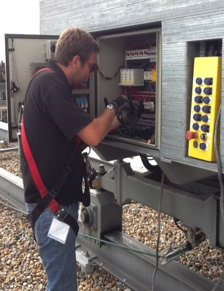 Once a contact is in place our administration department will ensure that the quarterly visits and tests are booked with the building manager in good time to keep the system available for your operatives to use with as little disruption to you as possible. When required we will work with the Insurance Inspectors to coincide with one of our visits in order to save you costs as well as attending to any issues that the Insurance Inspectors may raise. This will keep any down time of the equipment to a minimum. Following the successful load test we will issue a valid Test Certificate for you records. Our Engineers are also trained to Install and maintain Mansafe systems as well as installing and maintaining eyebolts, fixed ladders and balustrades. Atrium Gantrys Engineers will also provide Training to your Building Staff, window cleaners or any other parties required who may wish to use the equipment and will issue Training Certificates.
Atrium Gantrys will maintain equipment supplied by other Companies and as manufacturers we also have the advantage of being able to fabricate or machine any parts on any company's equipment that may now be obsolete or unavailable.
Find out more by contacting Atrium Gantrys